Knitting Series
Tatting series
Towel Series
Digital Series
The majority of the community:
In this announcement, the process flow, as well as specifications and parameters, may be different from the actual products. It's intended to prevent unfair competition and theft of trade secrets. If you are interested in our products, please call 0510-86518888 to ask for product details! Waiting for good news.
Knitting Series
» Home » Products
Open Width Degreasing, Pre-shrinking, Desizing, Flattening Washing Unit
Based on the machine model 209, introduced by Jiangyin Found Dyeing and Finishing Machinery Co., Ltd. in 2010, after 3 times equipment improvement and technology innovation, model LMH-212, a new generation of highly efficient, energy-saving intelligent rope-form washing unit was finally introduced. This set of unit compromises the advanced manufacturing and technology from Europe and Taiwan. Adopt flexible module combin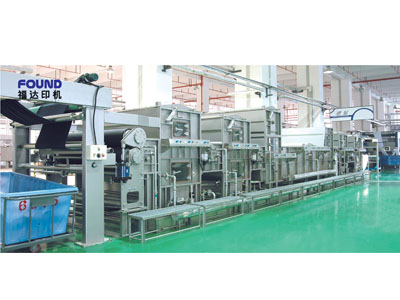 ation, new ideal design, suit to various technological requirements of customers so achieve the best configuration. And the machine is equipped with automatic operating system; easily produce the high quality products.
Model LMH212 could well accomplish the degreasing, flattening, shrinking process, for various types of fabric like polyester, polyester polyurethane, nylon, and finally, overcame the quality control difficulties because of the traditional technology. At the same time, the machine also greatly saves the cost of water and energy consumption.
With high efficiency, low labor cost, the average speed of Model LMH212 can reach 25-30 m/min, only one operating worker is needed, maximize the productivity of dye vat. Reducing emissions, cut the labor cost, improve the quality, the best choice for customers.
Contrast to traditional technology performance
| | | |
| --- | --- | --- |
| | Degreasing by dye vat | Model LMH212 |
| Water consumption | 15 tons/ton of cloth | 8 tons/ton of cloth |
| Gas consumption | 1 ton/ton of cloth | 0.4 ton/ton of cloth |
| Uniformity | uncontrollable | uniform |
| Repeatability | uncontrollable | stable |
| Shrinkage | uncontrollable | controllable |

| | | |
| --- | --- | --- |
| | | |
| Lateral move with low tension centering fabric loading system | | Open-width low tension stacking immersing unit |
| Adjustable dual thread detaching centering system, and equipped with scrolling type lateral move infrared radiation centering device, to insure the fabric is centering loaded under low tension to prevent pull-up distortion. | | Stacking after 3-8 minutes, the fabric also has a large flow of water spray circulation systems, so the grease oil and slurry are fully emulsified and puffed. Under the action of high temperature and auxiliaries, the fabric shrinks uniformly and sufficiently, to achieve the effective weight and shrinkage. |
| | | |
| Open-width efficient rotary drum spray washing unit | | Automatic dynamic filtration system |
| Fabric surface is wrapped with the punching rotary drum, and being penetration washing by six water jets, with the adjustable water pressure, has no damage to the fabric. The machine also comes with separated filtration systems to increase repeating utilization of water. | | Dynamic filtration system will filter out the impurities and hairiness after washing, greatly increase repeating utilization of water, with no frequently cleaning by human. |
Applied to the processing technology of desizing, deoiling for knitted & woven fabric



Applied to the processing technology of deoiling, desizing and shrinkage for knitted & woven fabric and high stretch fabric


| | | |
| --- | --- | --- |
| | | |
| According to the different fabrics and processes, uses flexible modular combination make the best solution for customers. | | Each tank is equipped with an independent filter circulatory system, to insure the full effect of auxiliary so achieve the best effect. |
| | | |
| The control system is able to store technology parameter, equipped with liquid level, temperature, material loading, PH auto-controlled, so makes an easy operation and a stable product quality. | | The overflow opening at the operating surface of the washing machine has flexible adjustment of the switch for size according to the different processing technology. |
Solve the following traditional degreasing technology difficulties
1.Product with poor repeatability
Solution: Automatic control system (flow meter precisely control flow rate, auxiliary accurately added; formula is easily in/out put; the parameter of control equipment is precisely set by the computers)
2.Degreasing is not uniform, so easily causes defect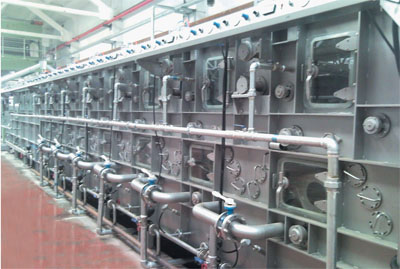 Solution: Powerful circulating system to insure Chemistry dosage is added uniformly. Open width processing, textile conveying without wrinkle, technology temperature keeps stable; Special designed planar overflow quickly discharges oil from the machine case.
3.Fabric creased
Solution: Use big rotary drums to convey fabric; processing with high precision; small spacing in-between components; rotary drums with independently driving motor; roller expand the fabric width from back and forth.
4.Tension is over strong to cause stretching
Solution: uses d riving motor controlled by frequency transformer; adjust driving rate for a fine tuning of tension; tension sensor accurately adjust tension.
5.Big water and gas consumption
Solution: with the machine fully closed so has no space disclosed to prevent heat dissipation; the liquid inside the case flows backwards to increase repeating utilization of water. The powerful spraying water jets are equipped on each rotor drum and with filtering equipment for each washing working unit.
Contact Us
Add
:No.1,Qingyang Economic Zone,Jiangyin City,Jiangsu Province,China
Tel
:+86-510-86518888
Office
:+86-510-86505888
Fax
:+86-510-86503888
Tel
:+86-13961612888
P.C.
:214401
Website
:www.foundmach.com
        www.foundmach.com.cn
Email
:
Steven@found-machine.com
Copyright © 2023
JIANGYIN FOUND DYEING PRINTING MACDINERY COMPANY